SOLD! SOLD! SOLD! Marble Falls Home for Sale 25426 Singleton Bend E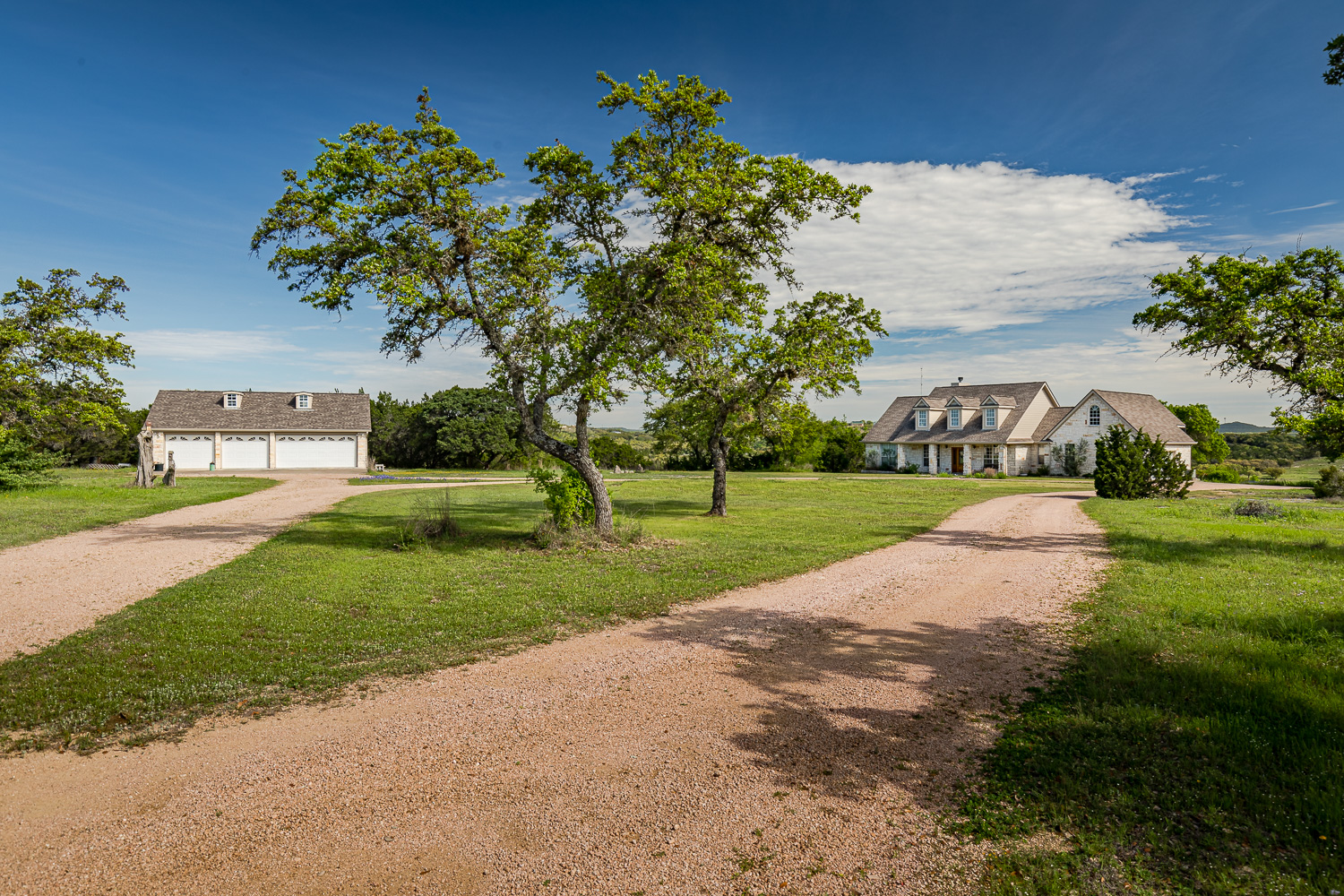 New Home, New Lifestyle!
25426 Singleton Bend East, Marble Falls, TX Home for Sale!
So much to say about this home for sale!
Only $724,995 for so much beauty!
RARE opportunity to purchase your new home in the Hill Country that sits on almost a full eight (8) acres AND be close to shopping, restaurants and more! THIS 2,351 s.f., custom built home is not only gorgeous, but the views are absolutely amazing! Approximately 15 minutes to Lago Vista (groceries, restaurants & more), 30 minutes to Cedar Park and 30 minutes to Marble Falls. Oh, but there is more! The Flat Creek Winery https://www.flatcreekestate.com/ is less than 5 minutes away. Flavorful Texas wines and its very own restaurant as well.
This home was built with love of family for sure! In the main home you will find 4 bedrooms, or 3 bedrooms plus a spacious, private office with its own private deck and amazing views, 2.5 bathrooms (the other full bath with walk-in shower is in the workshop), as well as a formal dining room, butler's pantry, large utility room and 2 car attached garage. Your new home also comes with a long and spacious front AND back porch as well! But, WAIT, there is more!
In addition to the tons of storage you will find inside your new home, there is a four (4) car detached garage as well! Your new garage is approximately 41' x 31', with PLENTY of length and height to park your boat, trucks, ATVs, motorcycles, etc., plus park your cars inside if you already filled the other 2 car, attached garage. Also built from Austin stone, with work benches already in place, peg boards to hang your tools AND a FULL bathroom with a walk-in shower with instant hot water! If that isn't enough, above this 4 car garage is MORE storage AND another bedroom area for your guests that would prefer their own private area to sleep. This building also has a window AC unit to keep you comfortable in our warm Texas summers too. But, WAIT, there is more!
Believe you may need more space for a growing family? It is my understanding that your new home was built to have a second floor when/if you need more space! We have the sketches for this, and I would definitely have someone you know confirm the information, but imagine adding on to your home without having to start with the basics of adjusting the main structure or the roof line!
Your new home also has its very own well house built with the same Austin stone with MORE storage space!
Do you love the great outdoors? Take your choice, head over to Balcones Canyonlands for hiking, bird watching, or if you love to hunt, they have special hunting times as well.
OR, head over (5 minutes) to Lake Travis at Gloster Bend Park This beautiful, 508 acre park offers fishing, picnicking, boat ramp, day park, 2 secluded coves for swimming, canoeing, kayaking, AND dogs are allowed.
Here are a few more links for your viewing pleasure:
Lago Vista Area Attractions (if you love golf – LV has 3 different public courses!)