$489,775
This beautiful, vintage meets new home will amaze you. 3 bedrooms, 2 full bathrooms (both with walk in, separate showers), 2 living spaces, gourmet kitchen with all of the bells and whistles, 2 fireplaces, and a mother-in-law plan at its best, is just the start. Your new home has a private, separate outdoor kitchen and a seating area with enough room for your family and friends, and their friends!
Do you love the look and feel of vintage homes (1939), but desire all of the modern conveniences? You have found the perfect home!

The kitchen of your dreams!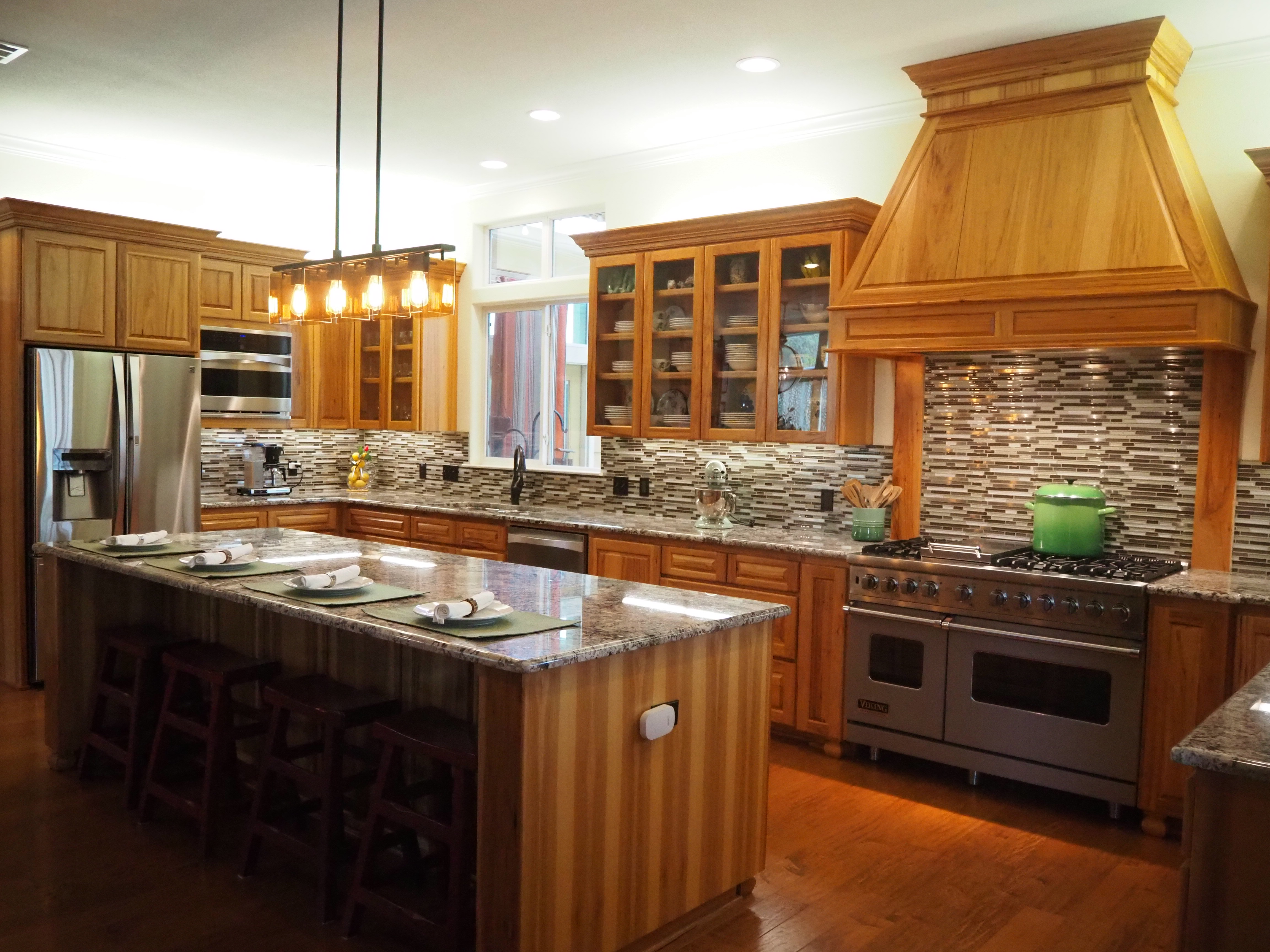 Welcome to your splendid new home in the historical district of Bastrop, Texas!

The town of Bastrop is steeped in history going all the way back to the mid-1800s. Historical Society Named after Baron de Bastrop, the little town flourished supported by harvesting lumber from Lost Pines Forest.


Your new home is located within walking distance of downtown Bastrop. Nestled on the banks of the Colorado River, and named a "Distinctive Destination" by the National Trust for Historic Preservation, Bastrop features quaint shops and boutiques, art galleries and public art, and a wide variety of restaurants. Visit Bastrop More Info

Are you looking for some outdoor fun with your children and friends? Look no further! Your new home is located less than half of a mile from Bastrop's most popular park, Fisherman's Park. This park includes a splash pad, nature trails, canoe/boat dock & ramp, tennis courts, fenced playgrounds, soccer goals and more!

With less than half a mile to the nearest elementary and less than a mile to the high school, you and your children will have the convenience of location, without the hassle of the traffic going and to and from the schools. Also, Erhard Stadium is less than a mile away. No more traveling to and from local sporting events or band practice, etc.

There is something for everyone extremely close by. Come, discover, and enjoy the area after viewing your new home!

The original portion of this home was built in 1939, but the updates to the older portion of the home are largely equivalent to the most recent addition to the home. With new insulation, doors, etc., other than the ambience of the older section, the passing through time, so to speak, as you walk through your home is not only unique, but extremely pleasant.

If you prefer the outdoors to relax, the multiple garden and patio areas will definitely please you as well. Mostly easy to maintain/grow native plants give you the feeling of royalty in your completely fenced yard. If you love to entertain outside, the outdoor kitchen and seating area which has a privacy fence, as well as blinds to ensure your privacy, is absolutely inviting as well.

The feel of the small town home, with the location of the city so close by, is the best part of this home. Come see for yourself!


Your very own rose garden! This is the front door and enters into the 1939 Family Room.

View from garage entry. Enter into 1st family room. Dining Space is to the left, library is through entry on right.

Ah the gourmet kitchen! Elegant and functional! Granite counters, stainless steel appliances, custom built, pecan cabinets, vented hood and so much more!

The door on the left is the walk-in pantry!

Viking 48″ commercial oven with 6 burner gas cook top and double electric oven, two pull out spice drawers on either side of oven.




Custom built, pecan cabinets throughout with many of your favorite items, lazy susan, built in trash can, storage, and more storage. Built in microwave/convection oven.

Holy counter space! Oversized island that seats at least 4. This view is to the library. Kitchen is open to 1st family room and dining area.

Library. Sit, read, or just relax by the fire!

Built in, custom made bookcases, hardwood flooring and as much space as you need. Door on left goes out to the smaller patio area, as well as the outdoor gourmet kitchen.

Floor to ceiling gas fireplace (vented gas heater).

Spacious and comfy. Tons of natural light!

View of library to 1st family room, kitchen and dining area.

1st family room also has built in, custom bookcases/entertainment unit. Hardwood, maple scraped, floors throughout.




View to dining area. Hallway leads to vintage portion of your new home.

Dining area! This table seats 8 comfortably. Plenty of natural light, designer light fixtures and open to the gourmet kitchen too!

Family or formal, you choose! Hallway leads to gallery and 1939 portion of your home. Entry on right leads to master bedroom and laundry room.

The master suite! French doors lead to backyard and outdoor living space.

Plenty of space and natural light.

Plenty of room for all of your furniture. Double closets in the master bath too! Scraped maple, hardwood floors through new portion of home, custom interior doors, designer light fixtures.

The master bath! Dual granite vanities, Travertine floors, separate walk in shower, designer mirrors, designer fixtures, and yes, more storage!

Under counter sitting area and plenty of granite vanity space for all of your products!

Second granite vanity. Need more space? Look at the custom built cabinetry!

The garden tub of your dreams! Travertine tile and custom fixtures. Relax and enjoy!

Master Walk In Shower. Unable to get view of whole shower, but there is a seat to the left, as well as a rainfall shower head in the middle.

View from gallery to library. You cannot really call this a hallway!

Lighted, custom built cabinets to show off everything you wish!

View from gallery to vintage office space. The second family room is through the second entry in the picture.

View of vintage office space to gallery. Oak hardwood floors.

Vintage office space. Window overlooks front gardens!

View of vintage office space to 2nd family room (front door is on the left).

Vintage second family room! Oak hardwood floors, wood burning fireplace and very spacious!

Plenty of natural light abounds in the 2nd family room! There is an antique, upright piano on the right bottom corner of this picture.

Guest Bedroom 1. Oak flooring, 3 full windows and a door leading to a private garden area in the backyard.

Guest Bedroom No. 1 even has double closets.

Guest Bedroom No. 1. Sleigh bed is a queen, so there is plenty of space for whatever you wish!

Guest Bathroom! Designer cabinetry, walk in shower, tile flooring.

Guest bathroom shower tile. Area is hard to photograph sorry!

Designer cabinetry and mirror behind the door of guest bathroom.

Guest Bedroom No. 2. Oak flooring, double closets and private entry door that leads to backyard garden area.

Guest Bedroom No. 2. Hardwood, oak floors, plenty of natural light, door leads to private backyard garden area.

Guest Bedroom No. 2. 2 closets and a ceiling fan.

Laundry Room. Travertine tile flooring, granite counters, custom built, pecan cabinets. More storage! Plenty of room to fold, iron, and for whatever you wish to store here too!

Extra spacious 2 car garage with sealed flooring. There are two 8×8 rooms to use for storage or a workroom if you wish!

Outdoor living space AND gourmet kitchen!

Stone patio w/covered pergola, ceiling fan and UV protectant curtains for cool days in the Texas sun!

French doors lead to master bedroom. Bull, 4 burner gas grill with 2 gas side burners, refrigerator and sink with storage drawers, installed in 2016.

One of many outdoor patio spaces!

Relax in the shade to start your day!




Backyard garden space. Doors lead to guest bedrooms 1 and 2.


Gardens are now 3 years old, so they are established and most are native Texas plants.

Your new home even has a designer fence!

A few of the special features of your new home!

Survey of land/home.

Beautiful downtown Bastrop is minutes away! Enjoy the great restaurants, galleries, entertainment without the worry of parking a car. Take the golf cart, leave the car behind!

___________________________________
____________________________________
___________________________________