602 Ridge View Drive, Leander Home for Sale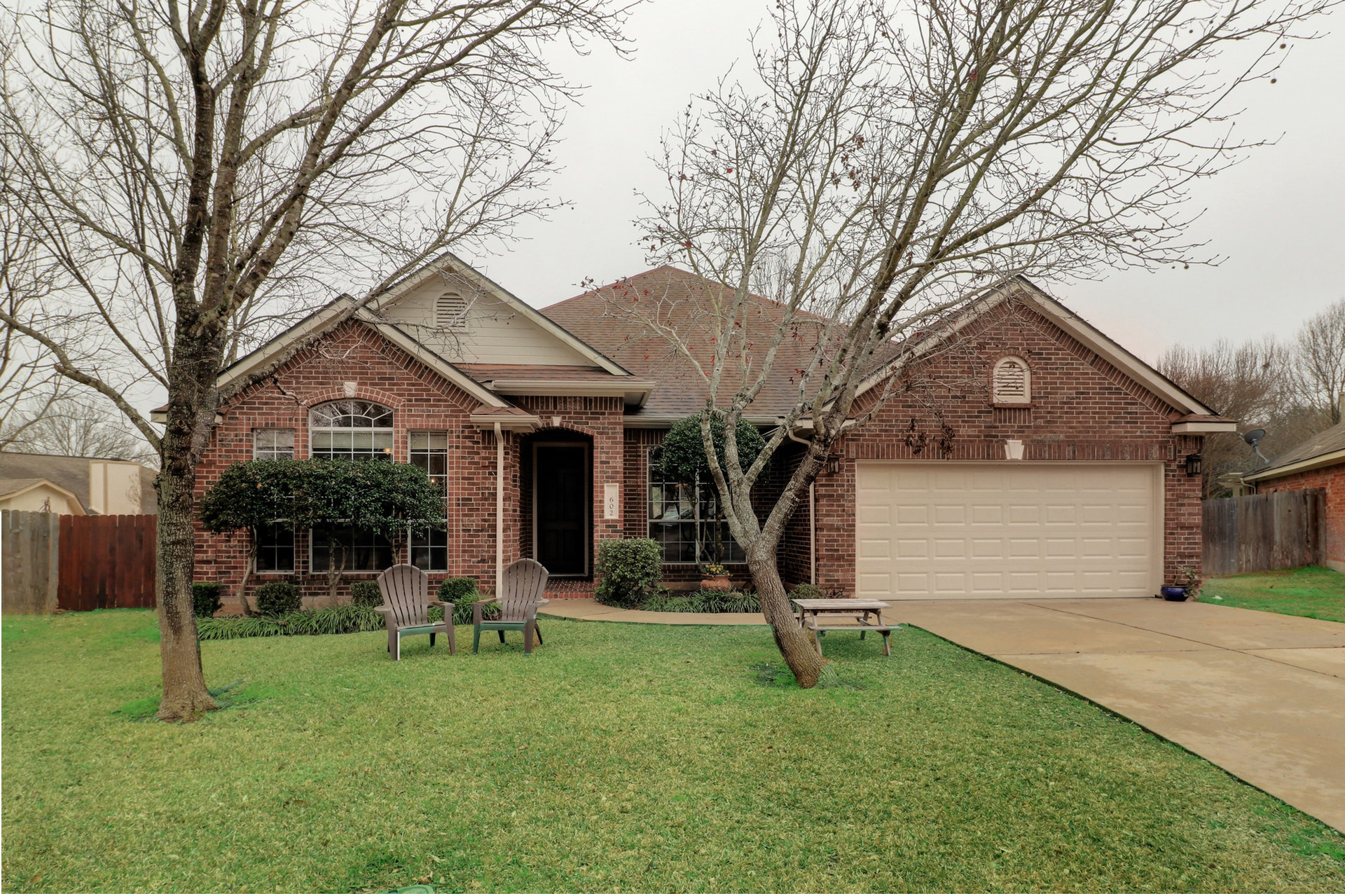 Yes, I photo-shopped the green grass!
Leander Home for Sale! 602 Ridge View Drive
$315,000
Completely Updated! Granite Counters, Stainless Appliances, Acacia Wood Flooring, Paint and So Much More!
This outstanding Scott Felder home can be yours! 1 Story, cul-de-sac lot, 2629 square feet, 3 bedrooms, office/study (or 4th bedroom), 2 full bathrooms, 2 wonderful, spacious living areas, formal dining room, kitchen dining area, plus a breakfast bar! 2 car garage on one of the larger lots in the neighborhood. Close to the HEB Center, Whole Foods, 1890 Ranch, 183 and 45 Toll Roads, restaurants, shopping, live entertainment, etc. This home has it all! Sorry the picture is dark, it was raining!
Welcome to your new home in Leander!
This wonderful niche' of homes is close enough to everything you may wish to enjoy, i.e. restaurants, shopping, entertainment and more, but tucked away in a quiet neighborhood away from the hustle and bustle of the city. The neighborhood consists of families, professionals and everything in between.
This particular home is in a cul-de-sac, which brings with it even more appeal. The sense of community and expanded family abounds with neighbors who set out lawn chairs for coffee or cocktails just to "catch up," impromptu pot luck or BBQ dinners, and holiday gatherings, etc. Do you need a helping hand? Just ask one of your neighbors!
Leander, like Cedar Park is one of the fastest growing communities in the Austin area, but still offers the quietness of a small town in your new neighborhood.
For parents with children in school: Leander Independent School District is one of the top rated school districts in the area.
For the high tech employees: Many high tech employers like Dell, Samsung, Apple and more are just a short commute (if that's even necessary in your world) to their main offices.
Searching for entertainment? The Cedar Park Center is home to the Austin Spurs, and the Texas Stars, as well as brings in top bands and shows like Cirque Du Soleil (2.9 miles). The 1890 Ranch is only 3.5 miles from home, as well as Whole Foods, and many shopping stores, restaurants, etc.
Whatever you may need or wish to do, you are only minutes from fulfilling your wish!