Leander Home for Sale! 602 Ridge View Drive

$315,000
Completely Updated! Granite Counters, Stainless Appliances, Acacia Wood Flooring, Paint and So Much More!
This outstanding Scott Felder home can be yours! 1 Story, cul-de-sac lot, 2629 square feet, 3 bedrooms, office/study (or 4th bedroom), 2 full bathrooms, 2 wonderful, spacious living areas, formal dining room, kitchen dining area, plus a breakfast bar! 2 car garage on one of the larger lots in the neighborhood. Close to the HEB Center, Whole Foods, 1890 Ranch, 183 and 45 Toll Roads, restaurants, shopping, live entertainment, etc. This home has it all! Sorry the picture is dark, it was raining!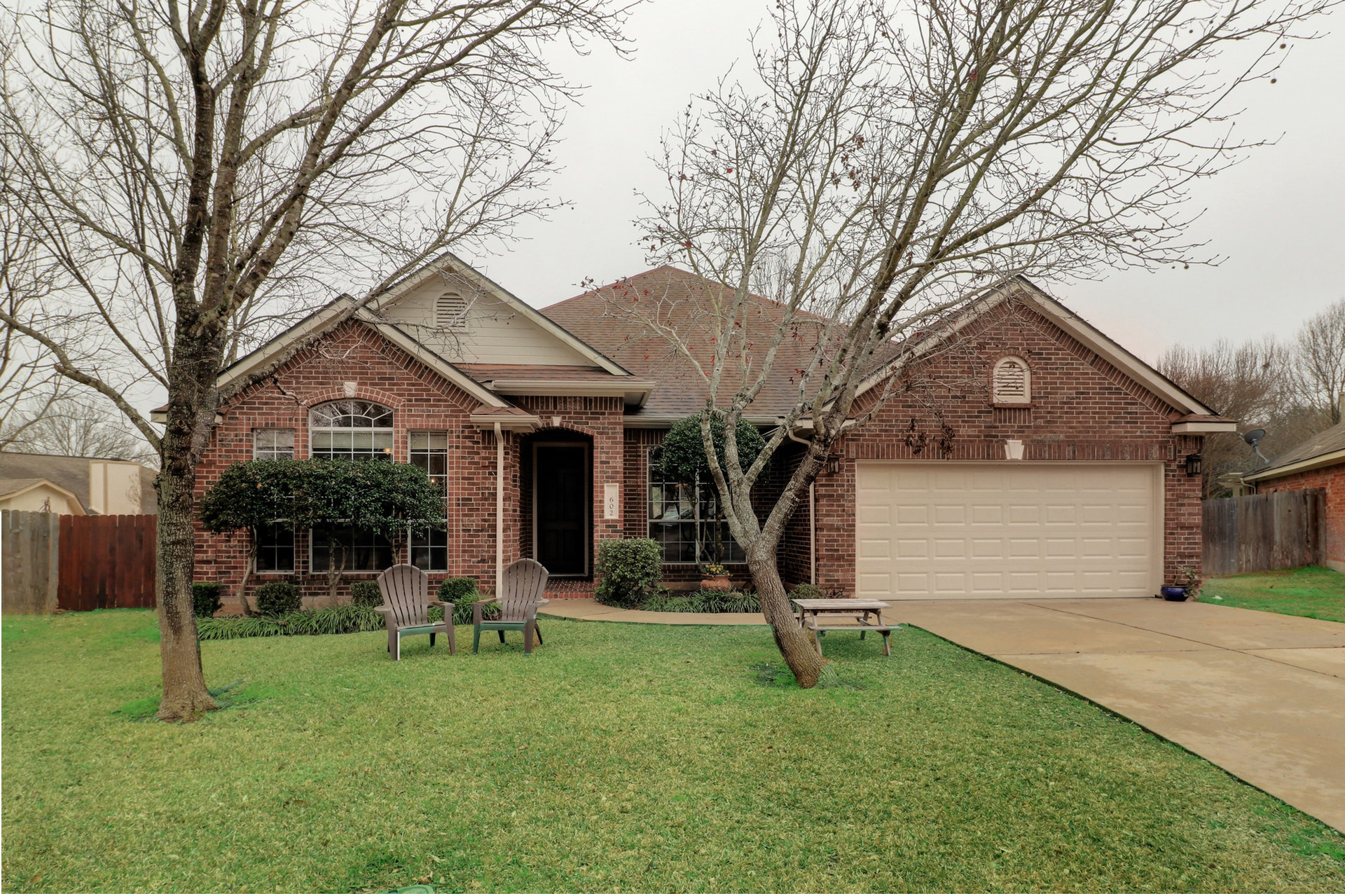 Yes, I photo-shopped the green grass!
Welcome to your new home in Leander!





This wonderful niche' of homes is close enough to everything you may wish to enjoy, i.e. restaurants, shopping, entertainment and more, but tucked away in a quiet neighborhood away from the hustle and bustle of the city. The neighborhood consists of families, professionals and everything in between.

This particular home is in a cul-de-sac, which brings with it even more appeal. The sense of community and expanded family abounds with neighbors who set out lawn chairs for coffee or cocktails just to "catch up," impromptu pot luck or BBQ dinners, and holiday gatherings, etc. Do you need a helping hand? Just ask one of your neighbors!


Leander, like Cedar Park is one of the fastest growing communities in the Austin area, but still offers the quietness of a small town in your new neighborhood.

For parents with children in school:Leander Independent School District is one of the top rated school districts in the area.

For the high tech employees: Many high tech employers like Dell, Samsung, Apple and more are just a short commute (if that's even necessary in your world) to their main offices.


Searching for entertainment? The Cedar Park Center is home to the Austin Spurs, and the Texas Stars, as well as brings in top bands and shows like Cirque Du Soleil (2.9 miles). The 1890 Ranch is only 3.5 miles from home, as well as Whole Foods, and many shopping stores, restaurants, etc.


Whatever you may need or wish to do, you are only minutes from fulfilling your wish!


___________________________________

Can you say absolutely beautiful kitchen? The perfect set up for even the best of chefs!

___________________________________

Granite counters, stainless steel appliances, gas oven, hood vent, powered island that is not only larger than most, but also has storage!

___________________________________

Under-cabinet lighting brings out not only the beautiful granite, but also the brick accent backsplash. Tons of counter space and tons of storage too!

___________________________________

Your new home is perfect for entertaining! Enter the front door, turn right and you are at the breakfast table with a view of your own private cul-de-sac! (The room on the right is your second living area – just wait till you see the main living room!)


Yes, I used two photographers. This is a more true to color/contrast of your new kitchen. Open to the main living area, with a breakfast bar at the end of the counter as well! Did you notice the built in areas for both the refrigerator and stove?


This view is from the main living area to the front window where the family table would be. Yes, the upper cabinets and counter tops are really that long!

Again, the more true to color/contrast picture. Glass, French doors lead to the kitchen area and the dining table. This table seats a lot more family/friends than shown for staging purposes. Look at the Acacia wood floors!


These rooms are very spacious indeed! This view is from the formal dining area to the second living space. The front door is on the left in the back of the picture and the kitchen dining area is what you see near the door. (True to color/contrast photo)


Yes! The Acacia wood floors are throughout your home, except in the bedrooms and bathrooms of course! This is the second living area to the left of the front door. The view is of your beautiful trees in the front yard! (True to color/contrast photo)


Plenty of natural light in all of your rooms. Large, custom, double pane windows give you wide open spaces. The formal dining room is also to the left of the front door when you enter. (True to color/contrast photo)


View from the entry way of the formal dining room and the second living room!


View of the formal dining room from the kitchen french doors entering the kitchen. Floor to ceiling, double pane windows bring natural light to grace your space with organic elegance.


Enter the front door and turn left! The second living room/formal living room if you wish, with floor to ceiling windows, a ceiling fan and hard wood floors, large, but oh so warm and welcoming!


View from window of second living area toward the formal dining room. Entry way leads to main living area and just wait until you see that space!


Here we go! Down the entry way, to the right of the master bedroom, we have the main living room! In addition to the floor to ceiling windows, you get a floor to ceiling gas fireplace with a mantel AND a hearth! Plenty of room for everyone you love!

Acacia hard wood floors, recessed lighting, more room for your furniture than you may ever need!


View from the farthest corner of the room by the large windows. Open to the kitchen as well! The room you see by the fireplace is the study/4th bedroom.


View from the back door of your very own spacious main living room!

This home is both great for entertaining as well as welcoming to family and friends!


Another true to color/contrast photo. Acacia hard wood floors throughout the main living areas, floor to ceiling windows and fireplace, recessed lighting and ceiling fans. The door leads to your private yard with a very spacious deck as well! Hallway on the right of the pictures leads to guest bedrooms.

View from main living room to kitchen, front door and second living room. (True to color/contrast photo.)

I know, I made you wait, but here it is! The most important room in your new home, the master suite! Again, floor to ceiling windows that overlook your backyard, lovely, plush carpet, and a ceiling fan as well!


This is the view from the corner by the window into your master bath!

Ah! The master bath! Walk in shower, garden tub, dual sinks, separate commode area with a door, and yes, a walk in closet to die for! Plenty of natural light here too! Unlikely that you may walk out with one black and one blue shoe on.

Designer lighting, mirror and ship lap on the walls! Your new guest bath with the shower in it's own separate space (to the right of the picture). Everything in your new home is large!

Another view of your new guest bath. This woman should have been a designer! (True to color/contrast photo)

Think very carefully who you invite to stay in this guest room. View is of your private backyard! This room does not have a closet, so imagine your office or study with this much natural light and such a great view!

Guest room number 2! Walk-in closet, plush carpet and plenty of room for a king size bed if you wish!

Guest bedroom number 3. Lovely, plush carpet, extra large closet, ceiling fan and plenty of natural light as well!

Your new laundry room is large enough for the washer and dryer of your dreams, plus it offers more storage area than you would believe from the picture.

Prefer to play outside? Your covered deck calls for cool days and nights in your own private oasis! Room for children and pets to play as well! (True to color/contrast photo)


.2742 acres leaves plenty of room in the yard for your children and pets, as well as entertaining on a two level deck area. Large trees help with keeping you cool on those hot summer days! (True to color/contrast photo)

The second lower deck area. So much room for your family and friends, as well as space to play in the yard! (True to color/contrast photo)


Welcome Home! I love this picture even with the strange hue it seems to have!

Sit in the front yard and talk with your friends and neighbors! Every part of your new home is inviting to all!

A large front yard too! Fully grown trees help with keeping you and your new home cool on summer days!

For more pictures of your beautiful new home that are more true to color/contrast go to: Kyle Gage Images